Your new go-to app for BPM on the go!
Almost 15 years ago, with ADONIS:CE, we began our mission to spread process management and make BPM information available to everyone by providing a powerful, free-of-charge BPM tool that truly allows anyone to model, analyse and optimize business processes in an easy, modern and intuitive way. Such a free, state-of-the-art BPM tool at your desk, however, is just the beginning. The future of BPM is both digital and mobile, and now ADONIS:CE is too with the launch of the "Ask ADONIS" (Early Access) mobile app!
Available for iOS and Android, our early access app makes it easier than ever to interact with BPM content on the go! The app lets you in on some of our latest experimental features, gives you the possibility to try them out first, and help us shape them further by bringing in your ideas and feedback. For us, fostering a strong relationship and engaging with our BPM community has always been one of our top priorities – and what better way to do that than pioneer the future of Business Process Management together!
We developed the "Ask ADONIS" app to make selected ADONIS:CE features just a simple tap away, and provide new innovative use cases to play with, even when you're not at your desk or in the office. Now, you can be anywhere and have your BPM with you at all times. With Ask ADONIS, you can have complete visibility into your BPM environment and anywhere-anytime access to your BPM content using your own mobile device.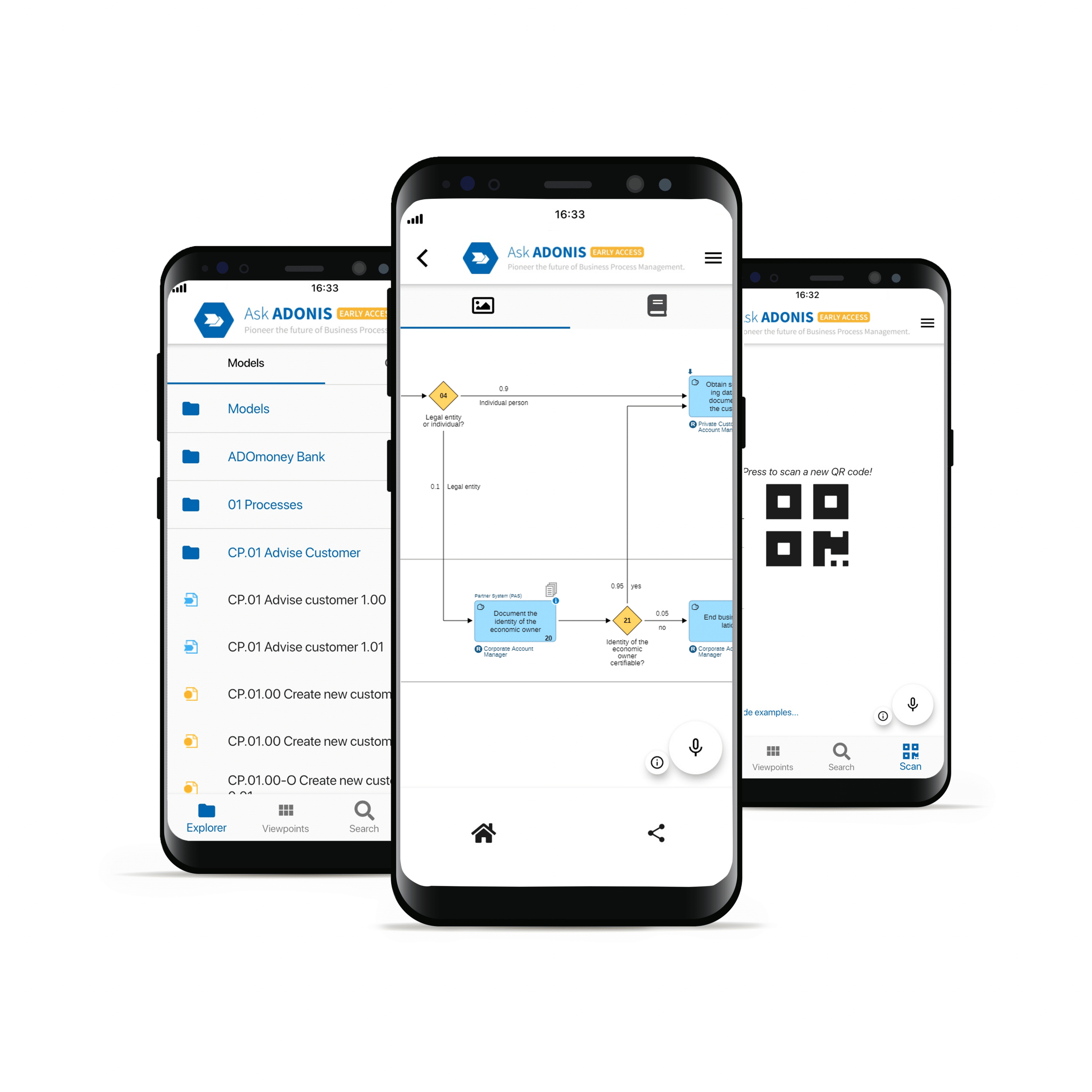 Some of the key new features include:
Multi-language voice control
QR code scanning, generating and sharing
Search & explore features
And many more!
The ADONIS:CE for mobile truly reflects our ongoing commitment to deliver innovative new technology that works for you, and build the best free BPM platform. Today we are excited to extend it into your hands and allow you to explore and engage with BPM wherever you are and whenever you want. The "Ask ADONIS" app marks one more step towards shaping the future of BPM!
Stay tuned for new features on the way and be sure to share your thoughts and suggestions with us through our "Ask ADONIS" survey that can be accessed via the app's burger menu – we would love to grow the app with you!
Happy (mobile) Business Process Managing!